UK

Public Transport News
RMT response to Transport Select Committee report on disabled access to transport services released this...
A consultation on draft statutory guidance and statutory directions covering local bus services has...
The appointment of 5 new board members to the British Transport Police Authority (BTPA) was...
Councils are to be given greater control over the way money is spent on some bus services, providing better value for passengers and...
A passenger safety scheme carried out by Transport for Greater Manchester (TfGM), Greater Manchester Police (GMP),...
The Mayor of London has released new evidence that demonstrates in more detail than ever before why it is crucial that London and the UK are...
Contribute to our discussion forum

There are many and diverse ways to improve patient care – though there is a distinction between patient care and patient experience. I would...

A current project that I'm working on is looking at fixed roof mounted solar PV on County farm buildings, this is still in it's early stages. At...

There is mounting evidence that there is a causal link between good levels of satisfaction amongst staff with their working experience, particularly...

Better access to the Trust Board for both patients and staff, e.g. by regular executive walkrounds, patient stories to board, staff stories to board,...

A culture of being open and reporting patient safety incidents will assist with reviewing current practices and facilitating change. Ensuring...

I think that improving patient care will be achieved by organisations VISIBLY valuing and systematically seeking the views of the people who use and...
Editor's Feature
David Sidebottom Passenger Director
Passenger Focus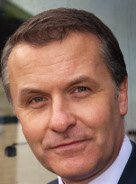 From September 2011 to September 2012, bus fares in England increased on average by six per cent – way above the rate of inflation (2.6 per...
>> Full article
View archive
Transport in the UK contributes to about 20% of the total gas emissions
Dr. Ghanim PutrusReader in Electrical Power EngineeringNorthumbria University